Music, Dance, Art & Craft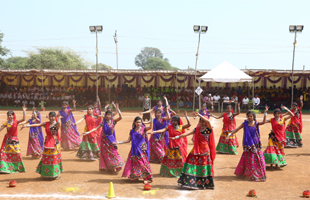 At S.P.C. we lay emphasis on all round development of our children. Music and dance are an integral part of a child's development especially in the younger age group. The School has a big dance hall and a dedicated dance teacher. Though student are fond of western dance but Classical Indian forms like Bharatnatyam and Kathak are also taught to our children. The school has a very experienced vocal teacher and a well equipped singing room and it has made compulsory even for the primary class students to learn singing. Children learn all kinds of songs. Songs for different occasions and prayers of different religions.
Those who are good in singing are trained for classical songs also. A dedicated music teacher and a special music room provide an environment conducive for children to learn both Indian and Western music. Currently the school provides music instruction on Harmonium, Tabla, Sitar, Guitar, Congo, Drums and Synthesizer. At S.P.C.we believe in beginning artistic activities with our youngest children.